Homeowners sometimes run out of ideas on how to achieve some form or privacy inside the home. This is especially true when their house has an open plan; where it is up to the owners to divide and section off large areas of the house or rooms. Room dividers are one handy and nifty way to enclose an area, giving it a sense of privacy as well as additional room or area accent. With the availability of design, size, color and shape of dividers, and the materials used, whether natural or synthetic, these handy room and home accessories add a touch of elegance, whimsy, fancy or color to a particular area. Complement the interior décor of any room in your house with dividers. These are easy to assemble and install, movable and interchangeable as well as inexpensive.
Here are some ways on how to use dividers in different ways. There are some dividers that you can buy and some that you can do by yourself. The main thing is to find and use the dividers to accentuate, enhance or provide contrast to the existing style and décor of the rooms you want to put them in.
Tall Bookshelf
Just like a home theater console keeps and organizes all your entertainment gadgets in one place, the same is true for a tall bookshelf. Use this as a divider to separate for example the working and sleeping area in a one room house. It could either be an open bookshelf or one with one side closed if you want more privacy. If you have books and reference materials, look for a sturdy one with uniform sections and drawers. If you want to place some room accents as well as organize your books, magazines and a collection of curio items, look for one with different sized sections. Paint it in a color that will be harmonious with your room's interior.
Wide Lace and Sheer Ribbons
Curtains can be used as room dividers, too but why settle for something mundane when you can add more color, a touch of whimsy and an element of fun to it. This could be used during the holidays. Instead of hanging a regular curtain, buy an assortment of wide lace and sheer ribbons in complementing or contrasting colors. Tie them side by side along the curtain rod and embellish some of the ribbons with small stuff toys you can attach with safety pins or hot glue. You could also buy some small satin flowers, for spring and summer. Make it thematic so the image changes.
Wood Trellis
Use vertical floor to ceiling wood trellis with horizontal slats to define sections of a large bedroom. Paint it in the same color as the rest of the room or use a different color for contrast.
Garden Trellis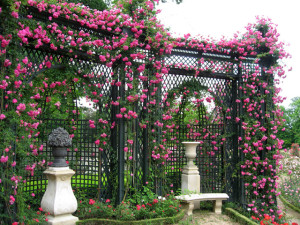 Garden trellises with horizontal, vertical or latticework slats make versatile dividers for any room. You can either paint them or stain them in any color you want to give privacy wherever you want it. They are easy to move about. They can be framed, mounted on a wider bottom base or attached to the floor and ceiling.
Dividers
If you need to create a small office in your living room, use dividers to define your private space. Dividers with slats or lattice work, either floor to ceiling in height or lower provides you with enough privacy yet give you a good view of the rest of the house without getting up and taking a look, which is particularly helpful if you have kids.
Low Bookshelves
Taking it one step further, low bookshelves would also serve the purpose of enclosing a space for your home office and give you enough storage spaces for your office materials, supplies, reference books and other office stuff. You could place some decorative items of top of the shelves to break the monotony.
Bamboo Fencing
Need something to define a blank wall inside your bedroom? Bamboo fencing will do the trick. Paint or stain it in the color that will provide contrast or accent to the empty wall. Line bamboo fencing poles side by side and mount them on the wall for an instant room accent and headboard.
Define the space between the bathroom sink and the toilet commode with a panel made from bamboo fencing. It will provide a sense of privacy without completely sealing off the place. Make it high enough but not up to the bathroom ceiling so exhaust will not be covered and light will still filter through between the gaps.
Do you want to hide your room air conditioners from view? How about your recycling bins? Bamboo fencing or wood trellises will do the trick. Attach them in a U-shaped form and use them as cover for your protruding room air conditioners and your recycling bins and you will have a neat-looking yard.
If you want to change the look of your perimeter wall and at the same time add more privacy to your space, add bamboo fencing to cover your existing wall. Bamboo is very versatile and adds new dimension and texture to any space. It also adds a natural feel to your place. Complement the new look with some potted plants if you do not have space to create a real garden. Pots of dwarf bamboo and other tall and erect plants will add volume and color to your handiwork.
Picket Fences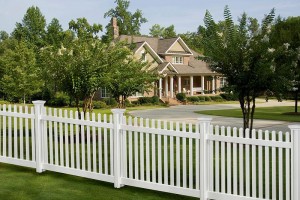 Picket fences could be used to create sections in your garden. If you are using old wood with plenty of holes, make them more interesting either by painting each slat in a different color or fill each hole with a different colored marble. The marbles will glisten in the sun and add color to the old wood.
Folding Screen
You can easily make your own folding screen if you are handy with carpentry tools or you know someone who does. Look for narrow doors of the same size and height from second hand wood dealers in your area. Three to five panels will do nicely. Add hinges to the door panels and you will have a folding screen in no time. You can paint the doors, stencil them or strip the paint and add stain to the wood for a new look.
Room and garden dividers have a lot more uses and purposes that what they were intentionally manufactured for. It takes some creativity, research and imagination to find other uses for these versatile dividers, which will give a unique and personal touch to your decorating efforts.
References:
http://www.mnn.com/your-home/organic-farming-gardening/blogs/10-clever-gardening-ideas-found-on-pinterest
http://www.gardenguides.com/118165-clever-garden-ideas.html
http://pinterest.com/fernrichardson/clever-garden-projects/
http://www.pambaboma.com/creative-use-of-room-dividers-in-interior-design/