Is your house and garden spooky enough for Halloween?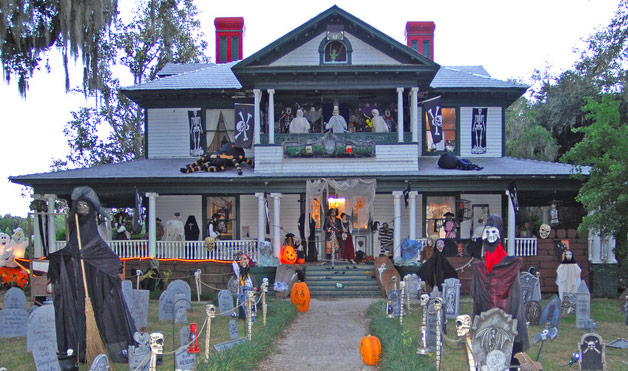 Halloween is the time of the year when kids go trick or treating. If it is a fun day for kids; it could be for adults too! Decorate the entire home to make it perfect for the occasion. Many people think that as long as they can create a spooky vibe, it is good enough for Halloween. As a result, they mash up just about anything that they can think of.
Though Halloween decorations are supposed to be scary, it does not necessarily mean you have to turn your house into a real house of horror…unless that's your desire. All you need to do is to find the right theme ideas for Halloween and still have fun. Below are couple ideas to start with:
Science Laboratory Approach. This is inspired by science labs obviously. All you have to do is to fill shelves with anything that looks intriguing and mysterious. You can include bottles and jars containing toy animals drowned in colored water and other displays. Involve your children to help you decorate.

Goth Theme.  This theme is straight to the point. It's all about the skulls. You can vary the skull choices to create a more appealing home décor. Some skulls are made from crystal glasses that can reflect light for more dramatic effect especially if placed outside with light shining behind them. Some others are coated in glitter that could be fun to place is dark corners around the property that will reflect moon light. There are also skulls made from metals. Mix and match and think of fun placement. When we think of skulls we think of cemeteries or goth like themes. Place no trespassing signs on your wall fence or drape Dracula like black sheets over your fence. Damp old castles come to mind for this theme, spider webs and creepy crawlies….depending on where you live, setting up traps around the house perimeter that activate when someone's walking, sound machines and light effects will spook anyone stopping by.
Haunted House. This design is inspired by antiques, dusty furniture, lots of mirrors and just about all types of clutter. Come on, I bet you had a crazy neighbor across the street growing up who turned his house each year into a haunted house or you were creeping up to a abandoned looking house to peek in for ghosts. You can use this as an inspiration for your decoration, but with a touch of class if need be. No time or money to turn your entire property into an experience? How about inviting neighbors with kids and turning the decorating into a neighborhood project everyone can be excited about and proud of. Got a tree in your backyard? From lights to "dead" animals you can turn it into a central piece of your theme.

Smoke. If you don't have enough time to decorate, this is the fastest way to create a Halloween vibe. Rent a smoke machine and place one in strategic areas of the house. If you are decorating the outside and your garden area, place the machines behind or to the side of your home, perhaps behind trees, fences or even your concrete wall to create a smokey, spooky feel.

Disney World Theme.  If you're trying to come up with ideas for your small children, you can't fail with their favorite characters, movies or Disney World inspired theme. Turn your house and garden into a Disney Extravaganza, ask everyone to dress as their favorite characters, rent inflated slides, photo machines and turn your house into a Cinderella Castle that welcomes all. Make sure you have plenty of candy, use lighting against your concrete wall for dramatic effects and make sure you have party favors for kids to take home with them.
There are many inspirations to choose from to create a Halloween themed home. All you need to do is find the perfect approach, use your imagination or better yet ask the kids and buy or repurpose what you already have in the house to decorate, remember it's the idea that counts and if you think of things for all of our senses: touch, taste, smell, sight and hearing, together they create an sensory overload every child and parent will appreciate.
If you have any specific questions about using paint, fluids, glue on concrete walls and are not sure what to do to not damage the wall, contact us with your questions and we'd be happy to give out tips.