1. Villa Lante in Rome

Reference: http://www.explorra.com/attractions/villa-lante_20677
These stunning gardens in Rome, Italy use shapes from stone and bushes to create a stunning look. These gardens date back to the Renaissance period and were originally designed for Cardinal Gambara.
2. Katsura Imperial Palace Garden

Reference: http://www.explorra.com/attractions/katsura-imperial-palace-garden_20679/photos#
The Katsura Imperial Palace Garden in Japan was first built for the PrinceToshhihito, and makes a feature out of the lake, which was dug out especially, using natural stone and trees. The prince himself was the main garden designer!
3.The Ville d'Este, Rome, Italy

Reference: http://www.explorra.com/attractions/villa-deste_20675#
Another spectacular garden in Rome is this one, which uses combined walls / fountains to create a visually stunning look. Really green and fresh.
4. Buchart Gardens North America

Reference: http://greenblognetwork.wordpress.com/2010/05/05/butchart-gardens-ecological-landmark/
These gardens used to be called the Sunken Gardens on account that they are built in an old quarry. When the quarry was no longer in use the wife of the quarry owner created these beautiful gardens that are now visited by thousands each year. They later changed their name to Buchart Gardens. These gardens are huge and some of the features are a Japanese Garden and a Rose Garden. Notice how the garden design has used bushes, paths and flowers to create borders and dividers.
5. Chateau de Versailles Garden

Reference:
http://www.explorra.com/attractions/chateau-de-versailles-garden_20673#
These beautiful, spacious gardens in France were originally created by André Le Nôtre, who was a French Landscape Gardener of the time. Notice the use of sandstone and curving walls, mirrored with curving paths and bordered by trees that have been used to create this classical look.
6. Huntington Botanical Gardens in Calafornia

Reference: http://www.explorra.com/attractions/huntington-botanical-gardens_20681#
These amazing gardens are actually made up of 14 mini gardens or sections, each with it's own theme. They showcase many rare plants and exotic fauna. They were the inspiration of Henry Huntington who brought in designers from around the world to create the different themed gardens. Many new mini gardens have been added since this garden was first developed in the 1900's.
7. Gardens of Parham House, West Sussex, England.

Reference: http://www.dailymail.co.uk/property/article-1297112/Hidden-treasure-Walled-gardens-secluded-romantic-highly-desirable.html
If it is a quaint and traditionally English look that you are after check out this beautiful garden and Parham House in England. Using a traditional stone wall, combined with shrubs, fence dividers and herbs to create the look, it provides a relaxing ad typically English look.
8. Cockington Green Gardens, Australia
The amazing thing about these gardens is that they feature really detailed miniature models. It is fascinating and the work that has gone into creating the models is inspiring. Set in this beautiful garden you will even see miniature people in the models. It's a really fun place to visit. You can copy the look using stone and concrete in your own garden if you fancy something a bit different.
9. Modern Rooftop Garden


(Garden design by Amir Schlezinger)
http://www.besthousedesign.com/category/garden/page/3/
This modern rooftop garden uses clever design to make the most of a small rooftop space. The area is divided using walls, decking and concrete flower troughs to create a clean look and a relaxing space. This type of a garden design is ideal for those who live in the city and don't have a lot of space to work with.
10. Unusual Features

http://www.designthoughtsblog.com/2011/05/rooftop-gardens.html
This city garden shows how you can make the most of what otherwise might be considered unsightly areas by making a feature of them and highlighting them using hedges and fences.
11. The Sculpture Garden At Minneapolis

Reference: http://urbanoasisblog.blogspot.com/2010/11/minneapolis-sculpture-garden.html
This garden at Minneapolis features unusual sculptures. It shows perfectly how you can highlight features such as these sculptures using hedges and symmetry.
12. A Sloping Garden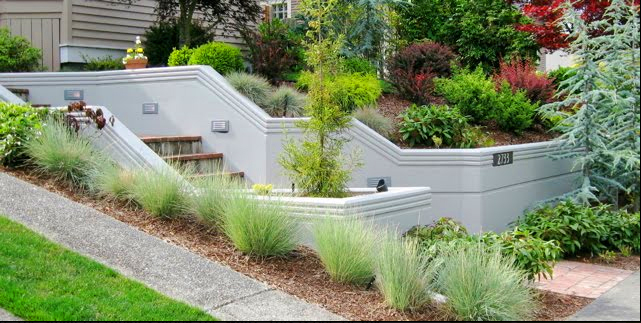 http://www.seattlegardenideas.com/2010/07/design-ideas-retaining-walls-rockeries.html
This fabulous garden shows how you can use walls and modern concrete design to create layers and levels within your garden. Finished with parallel grooves along the top and featuring built-in lighting for the steps. This kind of design is ideal for gardens which have very steep slopes.
13. The Atlanta Botanical Garden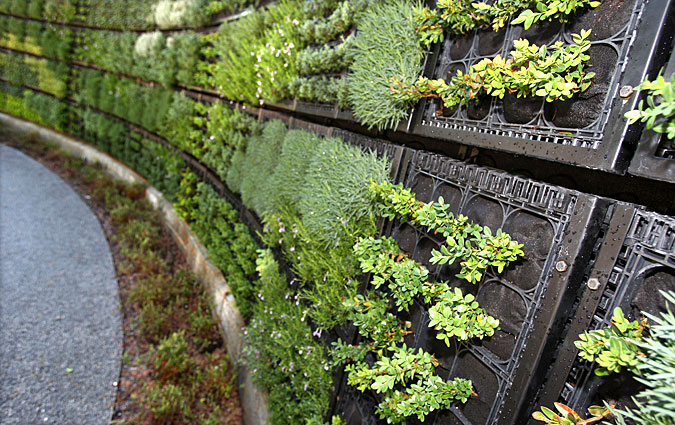 Reference: http://www.accessatlanta.com/news/entertainment/dining/botanical-garden-goes-from-asphalt-to-asparagus–1/nQd9J/
The Atlanta Botanical Garden has opened its Edible Garden and Outdoor Kitchen showcasing the farm-to-table concept of cultivating and consuming fresh local and sustainably-grown food.  This $2 million project not only returns the one acre asphalt parking lot to green space but also demonstrate that fruits and vegetables make beautiful landscape plants. About 2,000 plants of a variety of herbs such as sage, dianthus, dwarf, phlox, boxwoods to name a few are planted along a vertical wall.